These coming weekends mark important days for Elevated Clothing- namely that Saturday, August 1st, and Saturday, August 8th, will be our first events in Australia since officially launching the brand down under at the start of July. It's only fitting that we close out the month with a couple of bangers to kick off what will surely be an amazing year of growth for ELEVATED. Athletes have been waiting in anticipation to see the brand hit the salty shores of Australia all year, and with the first boxes of gear landing a few short weeks ago, we've witnessed somewhat of a feeding frenzy as t-shirts, hoodies, tanks, and crewnecks get swept up just as soon as they appear. Our second wave is enroute and will be arriving just in time for two great events in Australian BXM, and Australian Wakeboarding. We'll be sure to keep you up to date as more excitement gets underway, but for now, let's have a round of applause for the man who's heading the charge down there, Brent Trapp. And before you leave, take a quick second to enjoy Swamp Thing.. or is it the Creature from the Black Lagoon? I can never get those two straight, but either way the poster art for the Cable Ski Logan event is downright sick!!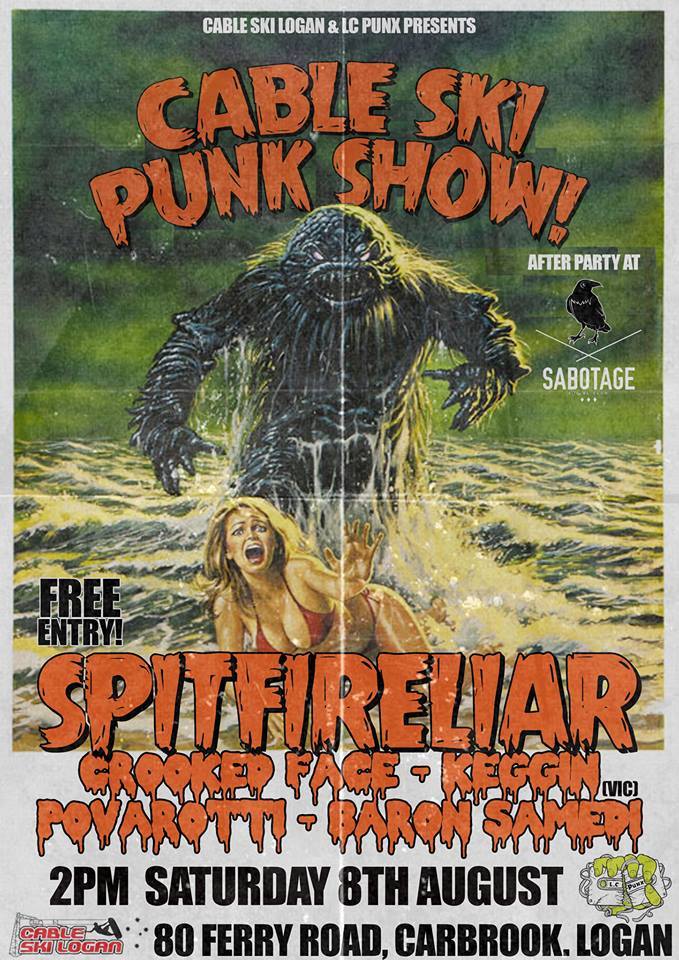 To find out more information, visit their website at
http://cableski.com.au/events?sid=mmvknag17qvhjdseg5ue8r4ju0
Info from their site and Facebook below: Cable Ski Logan & LC Punx are excited to announce on Saturday 8th of August there will be live music, social cable competitions, general ride, food, drinks & more! The event is proudly sponsored and supported by: Jetpilot, Elevated Australia, Sin Eyewear, Sabotage Social, 4ZZZ Radio, videographer Morgan Tendercrisp, photographer Johnny Bonnar. Events will include: 1. Rail Jam - wakeboard 2. Rail Jam - wakeskate 3. "Anything but a wakeboard" aka "make your own craft" 4. King of Kicker 5. Best dressed 6. Best stack To enter, please complete the Entry Form and send in to:
[email protected]
Refer below for a schedule of events - please note that times for cable events may alter.
https://www.facebook.com/events/1669139599986272/
The LC Punx and Cable Ski Logan are proud to announce the very first ever CABLE SKI LOGAN PUNK SHOW!! A killer afternoon including live bands, wakeboarding and good times by the water! Hitting the cable stage will be- spitfireliar Crooked Face Keggin (VIC) Povarotti Baron Samedi Spread the word yo !! NO BYO, Licenced Bar Also there will be a Sweet ass afterparty down at Sabotage Social !! DONT MISS IT ! Poster Artwork: Denis Hogan